The historical development of urban transport in Thessaloniki followed the citys history and the significant events that marked the last century.
Now modernised, more dynamic and with new ideas, OASTH strives to provide its passengers with the best services possible on a daily basis.
Although memories of the first form of transport in Thessaloniki cannot be erased, a lot of water has flowed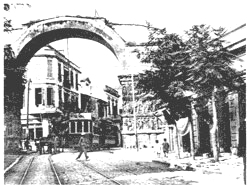 under the bridge since the days of horse-drawn carriages to todays state-of-the-art buses with their comforts and environmentally friendly, non-polluting technology.
It was 1879 when a Belgian company began to transport passengers in carriages of 4-5 seats.
In 1905, carriages of 15-20 seats began to travel on fixed rails.
In 1908, the Belgian company that had undertaken the electrical supply and organisation of transport in the city began operating a tram line under the name "Tramway and Electrical Company". The first tram lines in the city included the Apothiki (Exochon)-Port line and the Hirsch (now Ippokratio Hospital)-Beshchinar (26 Oktovriou) line.
As refugees came to settle in the city, establishing refugee communities and contributing to a rising population, the new lines of Ermou-Ano Toumba and Ermou-Kato Toumba appeared around 1927.
New buses with 20 to 25 seats began to circulate between 1930 and 1935, travelling parallel to the tramway and competing with it.
Common directorates were established by law in 1936 and included bus lines.
By 1940, the city already had 150 city buses of 40 seats that were owned by independent drivers. At the same time, the Belgian company was bought out by the State to create the State Tramway and Electric Light Company of Thessaloniki (KETITH).
During World War II and the Occupation of Greece, all buses were requisitioned and destroyed. Transport was provided only by the tram lines.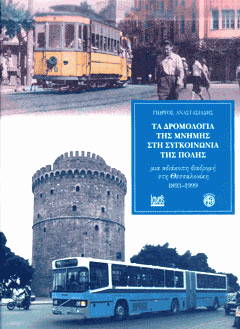 The Regional Bus Service (KTEL) was created in 1947, and took over transport services in Thessaloniki, dividing the city into three sectors. KTEL used 243 older and repaired buses, replacing 170 of these with new ones in 1949. In 1952, the three bus-owner pension funds in existence merged into one, the Joint City Bus Receipts Fund of Thessaloniki (KTEALTH), boasting a total fleet of 243 buses. The tramways were taken over by the "State Tramway Company of Thessaloniki" (KETTH) and the lighting sector was taken over by the PPC.
OASTH was founded in 1957 by Legislative Decree 3721 and assumed exclusive control of urban transport services in Thessaloniki after signing a financial agreement with the State. The tramways were then abolished and trams were withdrawn from circulation. At that time, OASTH owned 283 60- and 80-seater buses.
Between 1963 and 1977, 283 new, 100-seater buses were placed in circulation.
In 1978, OASTH acquired the first articulated buses in Greece, able to seat 150 passengers.
Law 866/79, enacted in 1979, expanded urban transport to the suburban area of Thessaloniki, merging a part of Thessaloniki Prefectures KTEL service, while also extending the duration of its contract with the state to 2000. During the same period, another form of semi-urban offshore transportation ceased to exist. This service relied on small boats serving mostly the needs of holiday-makers during the summer months with coastal routes to Aretsou-Peraia-Agia Triada.
On 30 April 2001, under Law 2898/2001, a third financial agreement was signed between the Greek State and OASTH, effective until 2009.
A supplementary financial agreement was signed on 4 August 2003 between the Greek State and OASTH, also effective until 2009, which extended OASTHs service area to 15 new municipalities (Kallithea, Agios Athanasios, Chalastra, Axios, Chalkidona, Koufalia, Mygdonia, Assiros, Lachanas, Langadas, Koroneia, Thermi, Vasilika, Mikra and Epanomi); 12 new lines were introduced; and 48 additional buses were added to OASTHs fleet.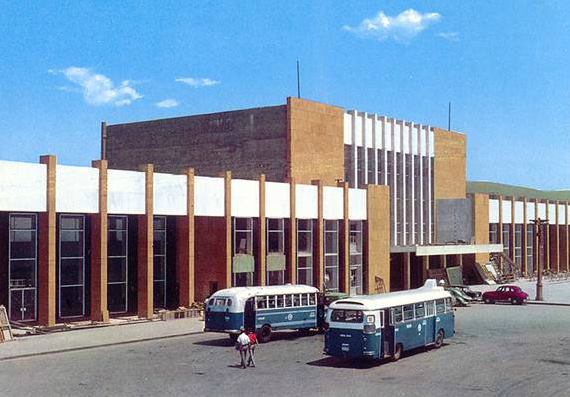 On 11 January 2008, a fourth financial agreement was signed between the Greek State and OASTH increasing by 64 OASTHs fleet of buses to a total of 600, while the urban transport concession period was extended for up to 2 years after the completion of work on the Metro and its extensions.
On 8 April 2010, a supplementary financial agreement was signed between the Greek State and OASTH and ratified by Law 3897/2010 which increased OASTHs fleet of buses by 18 and at the same time secured bus service for 9 additional municipalities in Langadas Province by combining OASTH services with KTEL Thessaloniki. This resulted in a significant reduction in the ticket price (urban ticket, or 50% of the KTEL ticket).